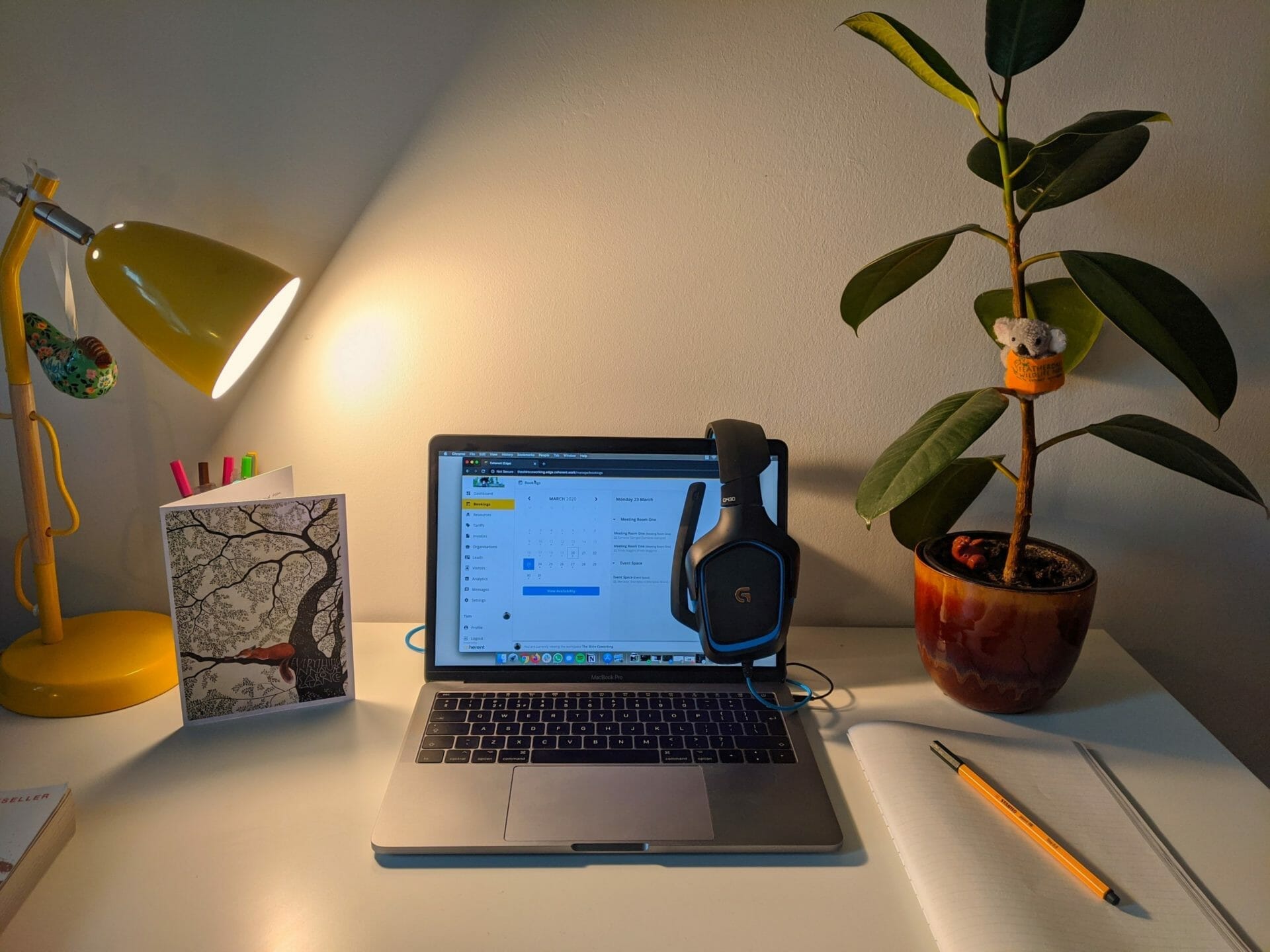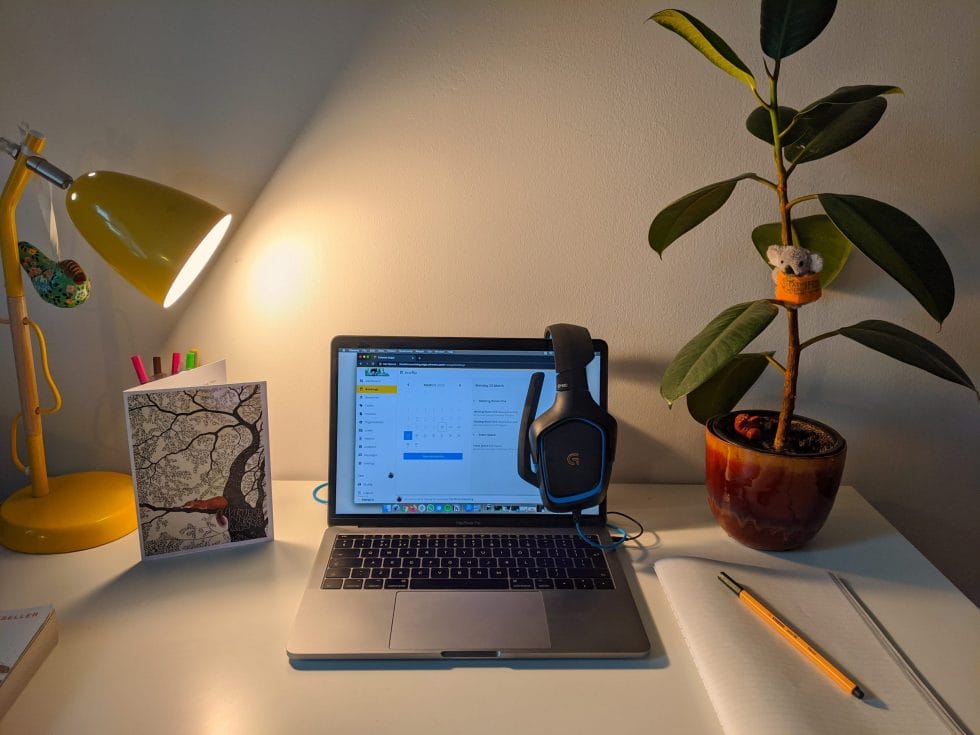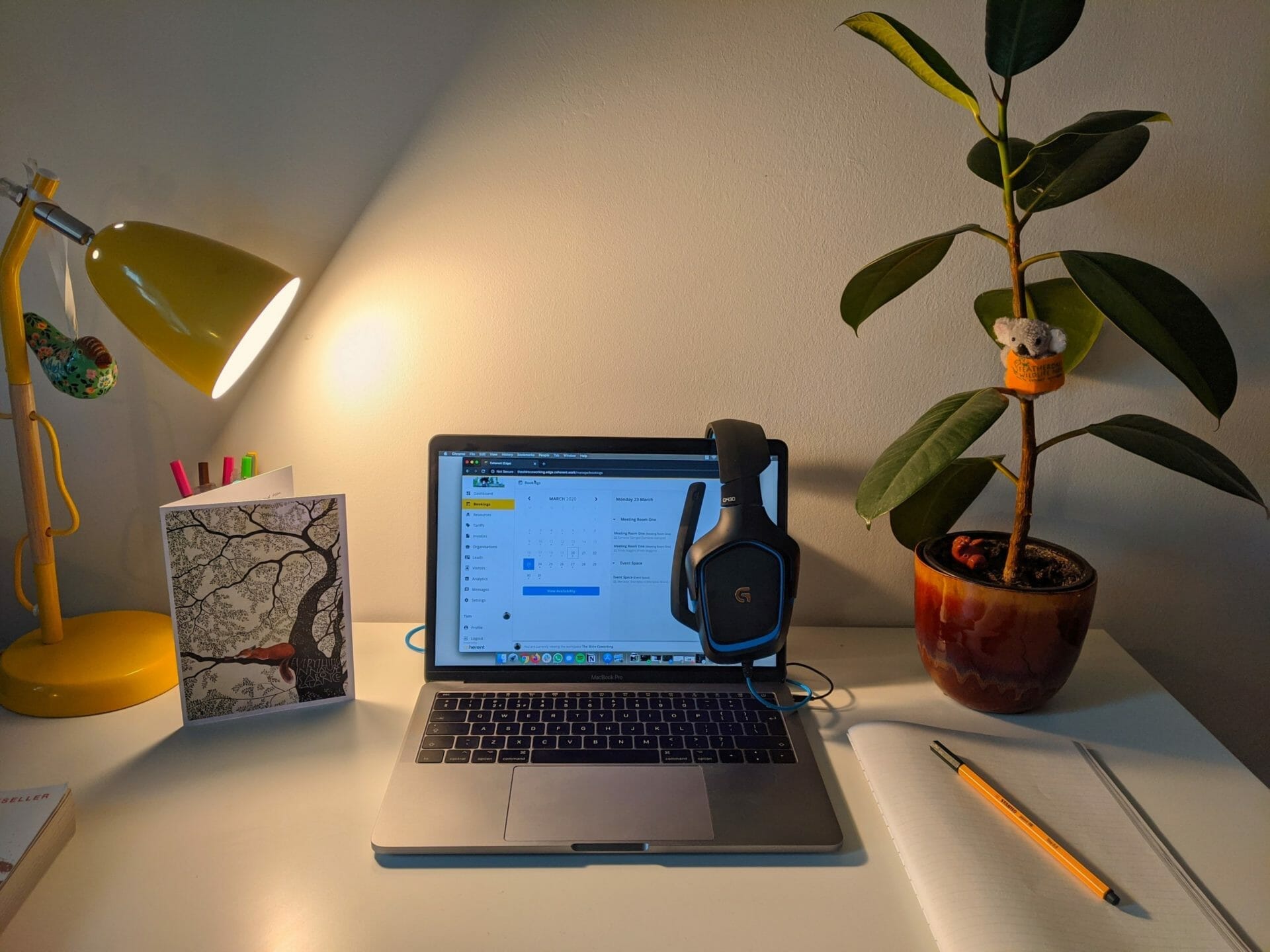 If you want to master working from home, this episode is for you. 
 I want to walk you through a four step process to set up a really effective working from home situation so you can more easily adapt to a new way of doing business.
Before we start I want to share a bit of my story with you so you get some context for the rest of this session.
Twelve years ago my husband and I did a sea change. 
We moved from our businesses with busy offices and staff, and our nearby friends and family, to the opposite side of Australia where we knew nobody and at the same time I was doing a career change.
So as you can imagine we went from being very well-connected and very confident in our skills to having no external connections with others, no other close relationships, spending all day with each other and grappling with the steep learning curve of doing something new and different then we were used to.
It took a long time for me to get my head around how I was going to operate in the world. I felt like I had lost my sense of purpose, who I was and what I stood for. 
I want to mention this because a lot of people right now are feeling this way too. 
Maybe you've had to give up your job or change your job, or have suddenly faced the new and uncomfortable reality of being faced with your life in the home environment as you work from home. And perhaps as part of that you're really questioning your capacity or whether you can cope with this situation. 
My answer to you is yes you can. You can absolutely cope with this.
The secret is to figure out how to adapt, and to do your way. 
That's what I want to talk to you about today
I want to walk you through the four steps that I went through to be able to work at home and be productive and feel connected as an example of what's possible.
I hope this helps you to come up with your own ideas about how to transition into this way of working, yourself.
Let's walk through the four steps!
1. Connection
Connection is the first important step, because without a sense of feeling supported, you can quickly spiral into fear, doubt and lack of confidence.
When I first moved to rural New South Wales I intuitively knew that I needed some sort of connection to feel sane and normal, and that things were working. My logical brain was telling me that I needed to make contacts for my business. 
But emotionally, I was missing the day to day camaraderie of like minded people in the office. I was missing catching up with friends and I was missing interacting with my family. 
So one of the things that I did when I first moved to a new place was to start going to different sorts of association events, social group events, sporting groups and meeting people in different contexts, so I could figure out where my people were and how best to connect with them.
For me, this was finding smart, positive people who are interested in health and wellness, who like brainstorming and being creative, and who like a laugh.
Connection is the first important step, because without a sense of feeling supported, you can quickly spiral into fear, doubt and lack of confidence.
Even if physical meetings are impossible for whatever reason, there are still plenty of online communities that you can join and be part of. 
One of the things that's great about connection is the chance to get to know your neighbours, the people in your street, the people who run your local businesses, and those who own the coffee shop down the road. 
Even without friends in an extreme case like a sea change, these become points of contact and help you feel socially connected even if you don't know them that well. 
Let's be clear – when you move interstate you will be starting off with fairly superficial relationships because it's pretty difficult to replicate the friendship of 25 or 30 years. But what I have made peace with is that you can build those relationships again in a new place or in a new context simply by showing up regularly in social situations where your tribe is.
First, you have to find them.
Beyond getting started in a new place, I think it's really important to know that when you work at home and you're with yourself and perhaps your partner 24 hours a day.
You can feel a bit claustrophobic, so it's important to schedule in meeting opportunities so you can get enough connection with others. 
What could this look like for you?
It could be having a daily trip to a local cafe to write a blog. 
It could be that during the week you schedule time slots to get you out of the house and go to places where you will see people, whether that be the shop, the gym, getting a massage or any other sort of social interaction. 
Add another level if you feel that you need to be able to brainstorm ideas with other people in business. 
Perhaps then you could hire a co-working space for a day, book a room in the local library, or join your local Chamber of Commerce and meet other people in business who might like to get together and brainstorm ideas at one of these venues, or a cafe, or at someone's home or a Zoom meeting.
All of these things are possible, it just requires creative brainstorming. 
2. Planning
Once you have a plan for connecting with people you will be able to fill that very primal need to be part of a tribe.
The next thing to do is figure out what you need to do each day. 
It sounds simple but it can be challenging when your whole environment, schedule and context has changed. 
Planning is super important if you are somebody who is used to following directions or collaborating with teams on how projects will be delivered. It's also important if you're prone to distraction, or to procrastinate as soon as an obstacle comes up.
The easiest way to get your planning right is to start with one month at a time.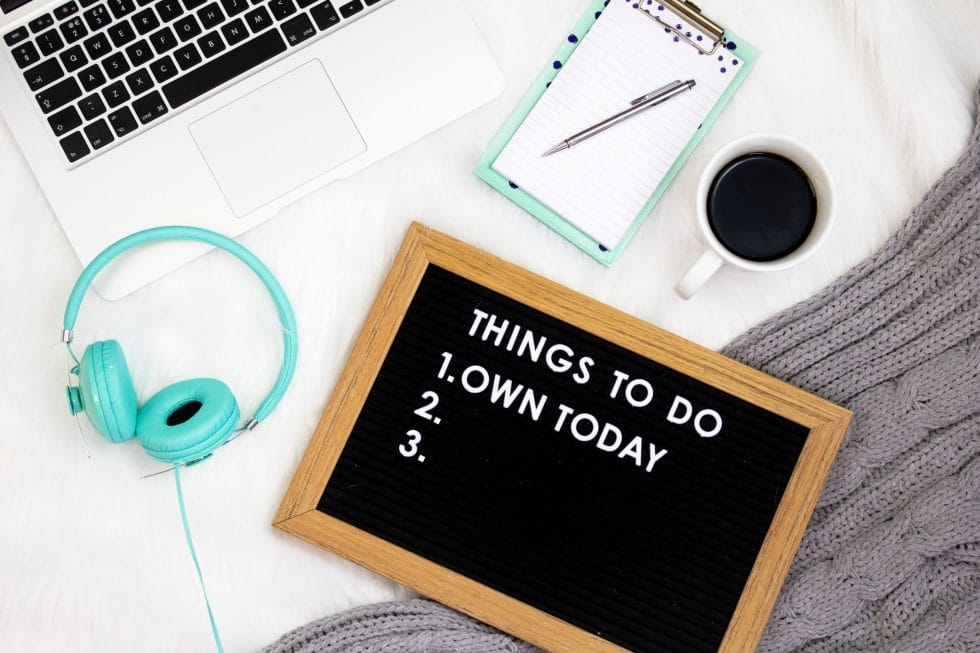 Within that month, block out your must do activities like taking kids to school or shopping or other sorts of life appointments.
The reason that I recommend you plan one month at time is because initially, you're going to need to experiment with what works for you. 
You're going to find that some days or some times a day you have more energy or more focus or more creativity than others. 
So in that first month your goal will be to understand your natural rhythm and then to adjust your schedule to fit with that. 
There are also some ways that you can proactively change your state to be focused or analytical or creative but I will cover that in a separate podcast.
Once you have your month planner in front of you, the next thing to do is to schedule:
1. any set work meetings that you have and any of those connection points that you've defined, and then;
2. the obvious things that you need to do like reconciling invoices once a month or doing social media posts for business or submitting monthly reports for work.
By now you should be feeling pretty good, because it feels great to have identified some concrete regular tasks to do each week and to know when exactly you will do them.
3. Now think about how and when you will check your email and social media.
You may not normally schedule that kind of thing in a normal work environment, but at home, these are rabbit holes for a lot of people. 
One idea to get you started is to think about coming up with one or two time slots per day where you will check emails and allow a bit of time after that to attend to any immediate business. 
For example you might decide that you will spend 10 minutes in the morning and 10 minutes at the end of the day checking email, and allow another 20 minutes after each of those sessions to follow up with schedule any tasks that arise. 
So that's 2 x 30 minute email slots, for checking and taking immediate action.
I was speaking with a client yesterday about the best time to do the morning email. 
What actually happens in the morning is that it's often a very good creative thinking time and if you launch into email right away, it can lead you into a hyper-responsive, detailed focus pattern that stops your creativity. 
Experiment for yourself; you may find it best to do a block of work or a creative task first before you do your first email check.
4. The next step is where you need to be a little bit creative and work out how to deal with bigger, project-level tasks. 
These are bigger tasks that you need to do that aren't so easy to identify, or quantify. 
They are usually things that you haven't done before, that you might usually brainstorm, or that you usually have guidance and direction to complete, or that usually involve getting other people's opinions or advice or expertise.
With these sorts of tasks you will need to break them down into smaller steps, and identify which segments require external help, review or ideas.
I like to use the Getting Things Done model to tackle projects and I'll explain that here, because it's been a game changer to help me quantify and chunk down project-style jobs. 
You may have a different way of working with projects but I'm just going to explain this model now.
The idea is that you identify separate projects and I have a folder for each one and a sheet of paper or a blank document to outline what the project is and what the main steps are. At the very big picture level I have a time frame on that project and A series of main steps. Here's an example. Let's say that my project is to overhaul my website. And this was an actual project that I snoozed for 40 weeks because it lacked clarity and definition of the step-by-step process. 
So if my project is to overhaul my website I could break that down into main tasks of revamping the homepage, revamping the services page, and revising the blogs. I could prioritise those main steps from most to least important and then what I could do is take the main priority step and brainstorm some smaller steps within that. 
So let's say that revamping the Homepage was my first goal. I would need to decide what that actually means. It could be that I want to read and possibly update the copy. It might be that I want to add some new photographs. 
For somebody else this task could mean that they want to totally change the layout. So as you can see doing that sort of breakdown process allows you to get clear on what the individual tasks are and it makes it easier for you to assign times and timeslots to each of those. 
For example I might decide I will allow an hour to read my homepage copy and revise it. If you're unsure about how long something will take it's best to add an extra hour to the end and be prepared to need to have a second session later on if required
Then what I would do is pick the very first task of the project and schedule it into my calendar. And when I do that task I would go back to my project list and identify the next task and schedule that in. 
Working in that way avoids overwhelm and it helps you to get clear as you're navigating that project on what the tasks are as they arise. Because let's face it we can't necessarily know all of the steps in the right order up front and it's possibly better to define them as you go. Our brains have a tendency to want to latch onto predefined schedules even if they stop making sense.
3. Brain Breaks
Planning aside there is something else that needs to happen when you work from home. And that is taking breaks. If you get really focused on your work and are working effectively and there's nothing else to do chances are you're going to work too much. 
I put my hand up this happened to me a lot in the beginning and still does sometimes. 
That's why doing number one first and establishing those outside connections and commitments socially is really important because it gets you out of the house and gets you away from work so that you don't overwork.
There's two types of breaks.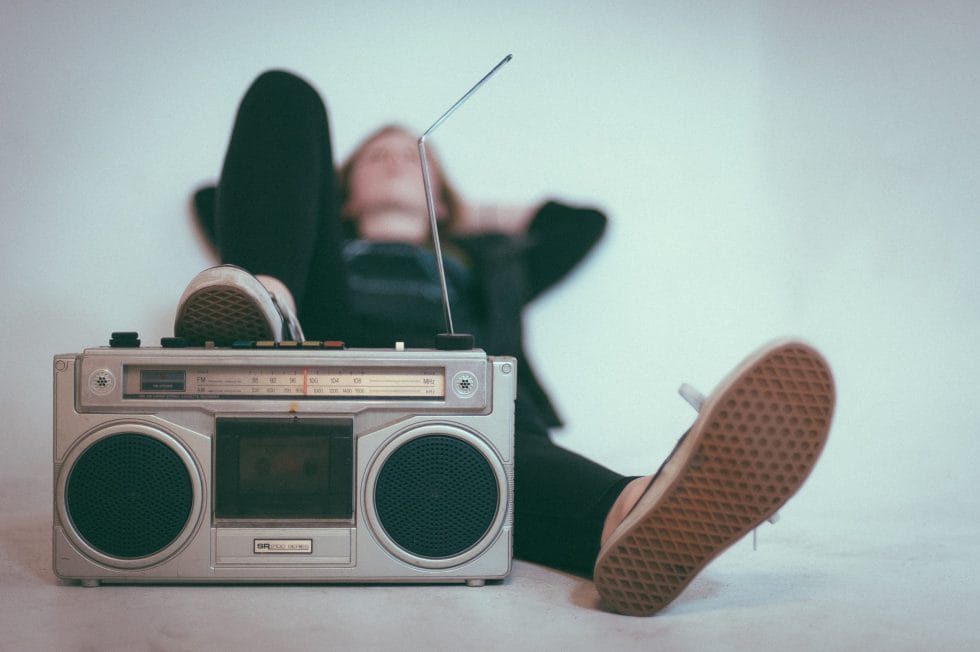 The first is taking a brain break while you're working so that you're not staring at your screen all day. It can be useful to put house work or other small tasks in between work tasks to give your brain a break, want to go and take a shower or to walk outside into the garden or something to give your eyes a rest and give your brain a chance to shift the focus.
The second type of break is taking a more extended break and knowing when to switch off at the end of the day and having a set lunch break. 
It's really easy to work through lunch and to sit at your desk all day and for the slumped over desk posture become your new 'asana', and for digital eye strain to creep in, and to start feeling disconnected and snappy.
Discipline is often required to disconnect. Create rules and boundaries, and know that when you stick to them, you will be powerfully productive when you ARE at work.
4. Self Care
I coach a lot of business owners who work from home. And their universal lesson is that they need to do something for themself FIRST thing in the day in order to maintain emotional balance, to feel calm, and to eat well and exercise.
Many of them have learned the hard way; that when all work and everyone else's needs come first, they start reaching for the chocolate, the wine and the weight watchers subscription, they sleep poorly and feel flat, snappy or moody.
I am thinking of several clients who do one thing for themselves before starting their day, and that allows them to do so much more and feel satisfied without needing to reach for comfort.
They typically start with either:
Journaling or writing goals, or

Exercise of some sort, or 

Meditation, or

Doing something creative or doing creative work FIRST before the meetings and clients. 
There are other options; these are just a few things that my clients are doing to stay sane, grounded, happy and productive.
Create rules and boundaries, and know that when you stick to them, you will be powerfully productive when you ARE at work.
Summary
We've talked about the challenges of working from home, and it may take you up to a year or more to get your head around how to make it work for you.
In this episode I've talked you through four steps that have helped me to gain enough connection, structure and balance ro adjust and adapt to a productive, happy work environment.
Ready to be more productive while working at home?
You can proactively change the way you function and even the way your brain works! If you're truly ready to break old habits and get out of the rut I encourage you to check out the Habitology membership.
Learn more here: