This episode is about whether you should start a business, or not
As a coach trainer and strengths-based business specialist, I see a lot of people who are lacking meaning and purpose in their lives and wanting to do something different. They're bored, unfulfilled, and wishing that they could get out of their current situation and into something more exciting and meaningful.
If this sounds like you, then you need to keep listening because I want to talk to you about whether or not you should start a business. I want to talk about the specific types of people who are more likely to succeed, and those that aren't. 
I want to help you get a realistic view of what is required to be successful in business so you are equipped to make good decisions about your future. 
In this episode, I'll talk about 
* Idealism vs realism – Separating the dreamers for the doers
* Having a genuine desire to help people
* The search for more purposeful work
Idealism vs realism
I see a lot of people join my Passion to Profit program because they have realised they want to do something more meaningful that truly makes a difference.
Some of these people are idealists – they have a big dream, but lack the drive or commitment to pursue it, or their idea lacks enough substance to be viable.
But there are some people who have a very realistic vision but might just be scared that they won't be able to make it, or that they don't know how to run a business and they might fail. In other words, they're just lacking confidence and clarity on how to turn their business vision into a reality. 
If this is you, I really want to speak to that and equip you with some information to help you get clarity in whether you should start a business – and perhaps more specifically – whether you're ready and how to become ready.
Right off the bat, I want to say that anybody absolutely anybody can be successful in business.
The caveat on that is that you need to be prepared to do the work required on yourself and your idea, if you want to be successful.
Sure, you might have learned a new skill or gained a qualification and you will need to be proficient in that, but that aside, you will also need to commit to becoming uncomfortable, putting yourself out there, and learning the skills required to run a business – not just a hobby!
Knowing there is hard work ahead, I want to map out three things that are required for success in business, and that you would need to develop in order to be successful for yourself.
As I talk about these three things, I invite you to reflect on how strong these skills and strengths are in you, and what you would need to do to build on these before launching into your business.
Helping others
To be successful in business, and particularly a relationship business like health and wellness coaching, you need to have a really strong desire to help other people.
Over time you will need to become more specific about who you help and how you help them to be very clear in your marketing, but in the beginning, it's your passion and drive to help and serve others that really makes you a suitable candidate for running a business.
If you don't like people, if you aren't interested in people, or if you just want to make money, then you are unlikely to succeed. The reason is that you are not going to be able to express the empathy and make the connections you need to connect, empathise with and truly serve people.
A really great example of this is what happened during the Covid pandemic in 2020. A lot of businesses went under during this time. 
But the ones that survived went over and above to serve people in the community who were doing it tough. Those businesses that donated food or gave people work experience opportunities, or who contributed in other ways to people in their local areas, built loyal customers by simply demonstrating their core values around the desire to serve.
One of the most interesting aspects of finding the courage to make change is that it's a lot easier when you have a big driver, when you are attached to something that is way bigger than yourself puts you way ahead of the pack in terms of commitment, persistence and motivation – and attractiveness to your audience!
So if your desire to help people and to be of service is so great that you'd be willing to do anything to achieve that outcome, then that drive alone means you're more likely to succeed. You'll keep going, there will be fewer 'mindset' obstacles and you will leap over the obstacles more easily.
In summary, if your desire to be of service and help others is great, then starting a business is an option worth looking at.
More purposeful work
The next step is about purpose. It's great to want to help people, but you can still be aimless and unclear in that, or not driven to start a business. 
But if you are actively seeking more purposeful work, then running your own business might be a viable option.
This was me 15 years ago. I had already created a couple of successful businesses, but I was feeling disheartened with the industry I was working in. Through building a successful business, I had the opportunity to change legislation and change the way some aspects of that industry operate it. 
But I wanted a new challenge, and I wanted to impact individuals to improve their quality of life. 
This led me into health and wellness coaching, because physical, mental, and emotional health and fitness were way more important to me at that stage of my life.
My desire to find this meaning in my work was so great, that I set up and built a successful business and went on to teach others how to do the same.
In my own words, staying in a comfortable safe but unfulfilling role would have been living in mediocrity for me. I didn't want to live a mediocre life, knowing that I had the potential to impact the lives of so many others.
Does that sound familiar to you?
Fast forward 14 years, and I can truly say that I look forward to getting up every morning, excited to go to work, and excited to make a difference in people's lives.
After many years of unfulfilling work, I finally found my calling, and 14 years in, I am still as excited about it if not more so than my first day.
In summary, it's great if you love helping people, but if you want to do that in a bigger way, beyond your everyday life to do more purposeful work – then running a business might be a good option.
Being your own boss
Sure you can work for someone else in a job and there is safety in that. And some people are frightened of doing anything without the permission or validation of other people, so they prefer to stay in a job. 
But please know that these fears can be overcome, and I would suggest that if you have a strong desire to be your own boss and carve your own path in life, then it's worth tackling those fears, because your chance of success in business is excellent.
When I entered the workforce I was shy, quiet and didn't want to speak up for myself. But I was just a number in a big machine, having no tangible impact. 
Plus, I had lots of ideas about how to improve systems and processes, ways of communicating and ways of improving businesses I worked for.
Over a period of time, I became a frustrated employee. Sure I liked my bosses, but I could see ways of improving things that nobody else could.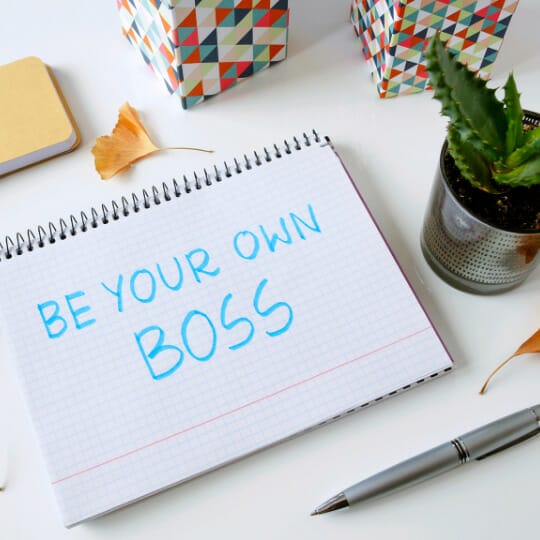 I took a hospitality job with a 5 star hotel for a year between my degree and Honours. On my first day in the job in 1992, I waitressed at an outdoor function and saw huge containers of untouched fresh food going into the bin. I wrote a letter to the manager and said 'Hey, can't we do something about this food waste?  Couldn't a charity collect and distribute it?'
A few days later I got a letter basically saying, 'Thanks, great idea, but it's too hard with current food safety laws.'
Now 30 years later we have Food Bank, and other such organisations. Imagine if I'd had the courage to take action all those years ago?
This is one of many examples where I was a frustrated employee. Ultimately, I realised that I needed to be my own boss, so I could innovate, improve and create to my heart's content, to make a difference in the world.
Being your own boss has a lot of benefits. It means that you can work the hours that suit you best, it means you can decide how much income you want it in, and it means that you can work in a way that suits you, your learning style, and your strengths.
Compare that with a job, where you have to show up and work the hours that a company dictates, you have to have a set salary and package, and you might have to do things that you disagree with or in a way that doesn't suit you or your strengths, or where your ideas for improvement don't fit in. Mostly when you show up for a job, there is a set job description that you have to fit into.
I have always hired on personality and personal strengths, with qualifications and experience being secondary. 
That's because while qualifications and experience were definitely important, it's the people that make a business and which attract all the clients! 
My question to you is – are you satisfied with being an employee? Is having a job comfortable, safe and familiar and satisfying?
If so, then you should definitely stay in that role. 
But if you feel hungry for more, or you're a frustrated employee who wants to make an impact, to be in charge of your own schedule and your own earning potential, to be in charge of the scale of impact that you can have, then you're probably more suited to running a business.
Being in business for myself has been challenging, but it has made me who I am today. I have gone from being a shy person who never spoke up, to a more confident and fulfilled person who lives and works on purpose. The challenges, skills and lessons along the way have helped me to grow personally and professionally. I like the new me MUCH Better! 
I'm more resilient, and I have more capacity to make a difference in the world because I took the leap into running my own business.
Running your own business is one of the best adventures you can possibly have in life.
SUMMARY
I invite you to reflect on how much you love your job and how many boxes it ticks for you. Is it satisfying, meaningful, purposeful and fulfilling? Does it help you grow personally and professionally? Does it help you to play to your strengths?
If not, if you are a frustrated employee, you might want to consider starting a coaching or other service-based business.
This is a great avenue for you if you are driven to help people, you are looking to live a more purposeful life, and you want to learn how to be your own boss.
It is difficult but also such an amazing journey of growth, and an exciting opportunity to create personal freedom and choice and to have a greater impact in the world.
Ready to get clarity on your pathway to success?
Understanding who you are and what you need will allow your business to thrive! If you're truly ready to break old habits and get out of the rut I encourage you to check out the Habitology membership.
Learn more here: