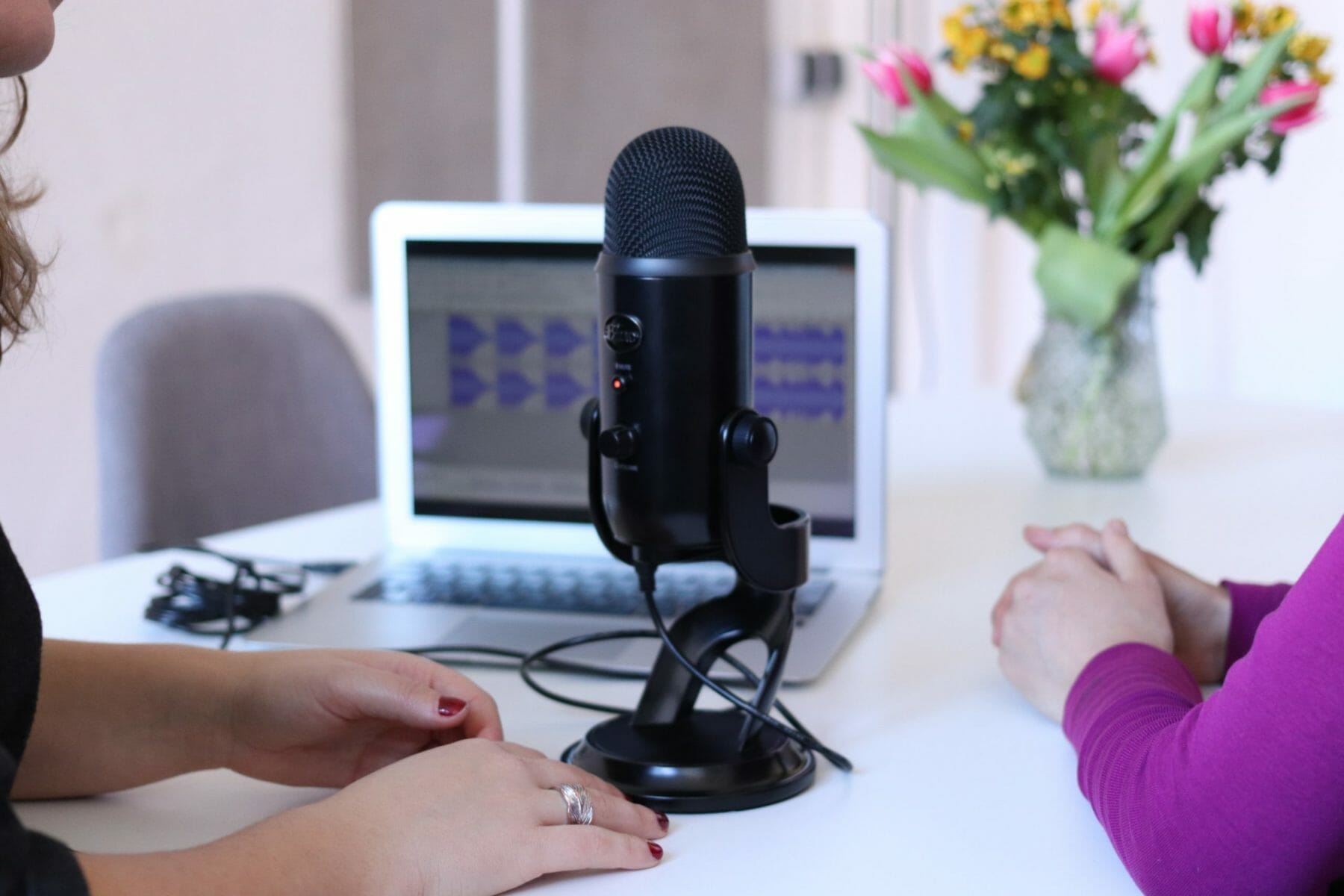 Today I interview Corporate Health Coach Christine Boucher on how to launch your corporate health coaching business.
Christine Boucher is super passionate about transforming the health and workplace culture of organizations, big and small, and helps coaches to bring their coaching businesses into the corporate sector.
Melanie: Christine, I'm so happy to have you here. And I'm just looking at all of your qualifications, and I can see how much work you've done. How did you find the time to do all of those things?
Christine: Hi Melanie! Thanks for having me. It's great to be here. I think looking back I have done have done a bit now – accumulating a few certificates under the belt, but I think I'm just driven by my passion. My passion for education, my passion and value for health, and I figure out ways to really be proficient and efficient with my time, I could sit there and watch TV, or I could, you know, read a book and learn something new. And I choose to do the latter.
Melanie: I bet love of learning is one of your signature strengths.
Christine: Absolutely. Yeah. My top three values, health, education, and adventure. And to me adventure is something like putting myself outside my comfort zone, whether that's standing on a stage in front of a large audience or climbing a mountain, I like to put myself outside my comfort zone.
Melanie: Awesome. That sounds amazing. And just for the people listening, I want to read out your qualification. So everyone has a bit of a understanding of the breadth of what you've done. And I guess that kind of leads into what we're talking about today is you helping coaches coaches bring their businesses into corporate, I mean, the depth of your experience, you've got a Bachelor of Nursing and you obviously worked as a nurse for many years, there's a diploma of intensive care nursing, a diploma of Bowen therapy, level three health and wellness coaching. You've got an MBA, a Gippsland Community Leadership Program, and President of Empower Her East gippsland. East gippsland. That's right. You have a lot going on.
Christine: Yes, yes. I'm juggling a few balls, plus, on the personal side, a single mom of two little redheads and they sit like me on my toes. How do How are your kids 12 and 13. So one in primary school, one in high school, so that you know as everyone else, it's been challenging here, Victoria homeschooling pretty much the last six months. So I'm so happy that they've just returned back to school. For a few weeks before we break up for Christmas.
Melanie: You get back some business time and some me time during the day.
Christine: Yeah, that's right. 
Melanie: Well, thanks so much for being here today, Chris. And I'm really excited to talk to you about the topic of expanding your health and wellness business into the corporate sector because I know so many people want to do this. And they just say: Where do I even start with that? What do I do first? So what do you think of some of the challenges that people face coaches face when they're getting ready to get their businesses into corporate?
Christine: Well, if I take myself back to five years ago, when I first moved into corporate so I started as other health coaches do with that one on one model and trying to find clients and I was really struggling with finding new clients, I was struggling with sustaining the clients, I was I was struggling with bringing in a decent income. And I, you know, I really thought to myself, how can I work with more people? And how can I leverage my time? And how can I make more money in my business? And so then I started doing some group coaching.
So I would formulate, instead of doing a one on one model, or formulate small groups of women, back then I was really focused on prevention of chronic disease and coaching these women through through that and that was quite successful. But again, I was challenged by bringing these these women together and sustaining that. So I thought, How can I find a group within a group and that quite naturally led me into the corporate space where there's groups of people within an organization that were just, you know, ready to roll, so to speak.
And so when I think back at, you know, that making that transition from the one on one into the one to many in the corporate health workplace wellness space, what I was really challenged with was: where do I start? How does this look, and what do I do? I didn't really know how to how to begin.
And I think another thing that I was really challenged with was my confidence. You know, I thought to myself, who am I just to walk into an organization and sell my services. You know – I need to have a psychology degree, I need all this the self study. Self sabotaging talk that I had, that I was that I was saying to myself – that I needed more to enable me to do this – which actually wasn't the truth at all.
What I had was was more than enough, I had the knowledge I had the experience. So it was I guess they were the two biggest things was my uncertainty, which exacerbated my lack of confidence, and it was just that uncertainty of how I was to make this happen and where I was to start. Probably the biggest challenges, and I often hear from other health coaches, they tell me that working in corporate health, workplace wellness, that's just for the large health organizations to do that, you know, I'm just a solo business person, I can't do that. Well, they tell me that, yeah, again, like I was saying to myself, I don't have enough experience, I don't have enough qualifications I don't… So it's sometimes just us as individuals, we limit out ourselves. And if we have a belief that you know, we don't have whatever it takes, then we're not taking the action, then we're not getting those results. So it's really about breaking through that mindset.
Melanie: I love that you said "sometimes," and I would say, most of the time we have those beliefs. I don't know anybody who hasn't struggled with that sort of mindset. And I love that you tell it as your own story and having been there, and you totally understand what it's like.  I think it's really valid what you've said, too, I mean, there is a steep learning curve, when you learn how to coach, and then you've, you go through that phase of doing one to one so you can learn your methodology, you can get really become really confident in the how the program will work and what sorts of outcomes people can get. And then generally, there's a natural movement into all what if I could do this with a group? And there's that next step of working with groups and becoming comfortable. But as you say, then you're faced with a choice: do you go down the track of learning how to do marketing in the online space or in your local community and having to be on that marketing treadmill, or do you get into more of a corporate environment where you have, I'm guessing, fewer clients and anymore, as in less marketing effort for more return?
Christine: Yeah, that's right. I remember the very first client that I had, my very first corporate client. So I'd secured this client, we'd sign the proposal, we're ready to roll. And I remember sitting at the front of my car at the front of this organization, and that fight or flight kicked in. All I wanted to do was was run I was just thinking, "I can't do this" – this impostor syndrome, this lack of confidence, and I was on the phone with my business coach at the time I mentor, going through this, this state of mind that I was in and he said: "Chris, you've got the knowledge, you've got the experience, you know, you've coached people before, it's just a different setting, you can do this."  And I went in, and I faced my fears and I did the program. And, you know, no one found me out because I was successful. And I WAS successful. It was just that that initial hurdle, once I got into it, I'm like, I can do this. And then this is repeatable to other clientele. And as you said, Melanie, it's you're working with far fewer clientele, I will generally work with no more than six organizations, because that's enough to work with at any given time. So there's this marketing, but there was a whole lot of other turning parts that over the five years that I've been doing this, I've made lots of mistakes, and learn how to now work with corporate clients. And that's what's now led me into mentoring other health coaches to move from that one on that one model to that one to many model.
Melanie: That's the thing, it sounds like a great pathway, and there's always going to be things that you need help with. The fact that you've been there and helping people through – that's fantastic. Because it's the straight line method, is what I would call it. Like when I help people start their businesses, I think I made lots of mistakes, I help you to set up a business and bypass as many of those as possible. And you're doing this in the corporate space. I think it's also a very exciting opportunity for coaches right now to get into corporate. There seems to be this real shift in the way people view well being, particularly mental health and well being. Then recognize the recognition that it's so important for employees to really bring a more targeted approach to their workforce.
Christine: 100%. It was seen as like a sort of an added value, now I believe that it's seen as more of a norm – like a necessity. Particularly what we've been through this year, you know where I'm from, Gippsland, we've had the bush fires and then COVID. We've had a lot of stresses, and working with your employees and investing in your employees is essentially an investment in your business.
And the return on investment for how a general health and wellness program is about three fold. I've managed to get some of my clients six plus fold, when we calculate what it's costing the organization, when they tallying up things like absenteeism and presenteeism workers compensation claims, staff turnover – all those things as a result of mental health and well being and physical health and well being emotional health and well being… if they're not taken care of is a significant cost to the business. And by the employer looking after their staff, looking after their mental, physical, emotional health and well being is really an investment in their business. The return on that is productivity and having the emotional intelligence within the organization. So there aren't issues with with relationships, and helping to keep that net mental health base. They're able to manage their their stresses, and they're able to focus on the job.
So this, therefore, is no accident. It's a significant return on investment, by investing in your employees with a health and wellness program. And health coaches are well set up and suited to sort of slip into this organization, this corporate world. They have the expertise, they have the knowledge and sometimes just perhaps need a little bit more guidance on the business acumen to deliver that and make that happen.
Melanie: There's two things really that come to mind as you're speaking and one is this. It's almost like now is a golden opportunity to step into this space, there's never been a greater need, or a greater awareness of the need for coaching in corporate health. And the the other thing I hear is that the way you're talking about the benefits to the organization, I think that's a big gap for coaches to really understand. How do I get people to buy coaching?What is the language around them, the marketing of what you do, and the positioning of the benefits… I'm imagining that is something that you bring to what you teach coaches?
Christine: Yeah, 100%. So they're not purchasing the coach or seeing the coaching, they're purchasing the outcomes of benefiting what's in it for them. And that's what they care about. And that's what we really need to focus on, when we're utilizing our language through, the sales conversation or language within our copy copy within our marketing, and to really portray the those outcomes and those benefits. So that it's, it's a no brainer for them to invest into your program, so that they reach those outcomes and move away from their pain points and move away from what it's costing their business into where they want to be, which is healthy, energetic, happy staff that are that are really performing optimally and that are really productive. And therefore, that's going to be most financially optimal for that organization.
Melanie: I would imagine that makes the sales conversation a whole lot easier as well.
Christine: Yeah, that's a big component of what I teach, because there's a lot of turning parts in that. And several years ago, I did some training around the psychology of selling. And it's really helping them to shift, to hold them in the pain point of where they are at with that emotional or that logical challenge or problem, until they're wanting to move away from that. And then you're showing them that emotional and logic future that they can potentially have.
And you're what comes in between that cognitive dissonance. So you're bringing them from that pain point to where they ultimately want to be in the future. And you're helping them to realize that they need you.
That's a really big point because it takes in working in the corporate space it takes really can take quite a bit of time to build those healthy, strong relationships, that trust and rapport. So once you have the opportunity to sit in front of the decision maker and have that sales conversation, it needs to be seamless – it needs to flow. You don't want to get all the way to that sales conversation and have it fall flat. You want to get them across the board, so that you can help them with your services, they can gain the benefits from working with you. And therefore it's beneficial for your business's health coach because you've got a sustainable ongoing long term client where you're making good profits from.
Melanie: Yeah, it's a great explanation, and I teach much the same concept when working with coaches in starting up their own business and working directly with with B to C. It's that whole use of the coaching approach in your sales conversation to take them from the "pain point" to the desired outcome. And so positioning is part of what you teach, and I guess I don't want to reveal all of your secrets about how you work with people, but I know that you are running a webinar. It's Thursday night this week. Is that right?
Christine: Yeah, that's right. So Thursday, the 22nd 7:30 Australian Eastern Standard Time. So it's really a webinar for health coaches that are interested that have been considering it, or maybe I'm sure, just to come along, and I'm just going to really be touching on the basics, we're going to be looking at basically what you can earn working in the corporate health workplace wellness space, as opposed to that one on one model, we're going to be looking at, you know, how to get the corporate client to really love what what offerings you have, what services that you're already delivering, and how that can be transported into the corporate space. And we're going to talk a little bit about just basically how to get started how to get your first corporate client.
Melanie: Okay, fantastic. They're very important things. And I bet a lot of people are really interested to know what you're going to talk about. Are there any prerequisites, Christine, for coming along? Do you have to be at a certain level? Or, you know, anything else like that?
Christine: I think it's important, if you're serious about moving into corporate health and workplace wellness, that you have an established business, and that you have some coaching hours under your belt. I don't think you can expect to sort of just get your certification and walk straight into the corporate sector, I do believe that you need a some experience under your belt. But having said that, if you're just curious and interested, maybe this is something for you later, and in the future, by all means everyone's welcome to come along to the webinar and hear about it. Because I know when I first started in corporate health, you know that the biggest thing for me was just to make that decision. Did I really want to move my one on one and quite successful business into the one to many in corporate health? And so it really took me some time to get very clear that it was the direction I wanted to go in, to get into that mindset to then transition my business in into corporate health. So the more clarity you have, and the more certainty you have around something, it makes a whole lot easier to achieve, if that's the way that you want to go.
Melanie: It makes perfect sense, and actually, as you were talking earlier about all of the fears, and the imposter syndrome, and all of the things that come up for people, I was wondering if those sort of things are just simply a lack of knowledge of how it actually works. And when you understand the mechanics, which you're obviously going to explain in your webinar of what's involved in getting into the corporate space as a coach, what are what are the main things you need to do? I think kind of dissolving some of those myths and getting clarity on the process will help people to say, yes, that's for me or not, for me, at some point down the track. And, and therefore, as you say, having that even if you're not ready to step into that now, understanding what's involved would be really important and almost like part of your vision for your business, if you have clarity on Yes, I know what's involved in being in the corporate space. And that's where I want to take my business, how much easier then does it take? Is it for you to align all of your personal and professional development plans to go down that path?
Christine: Yeah, 100%. If you if you know where you want to go, and you have you have certainty or have some sort of clarity around that, then you kind of reverse engineer and you can put all those steps into place. What do I need to do now to achieve that ultimate goal? What resources do I need? What education do I need, what mentoring what support and then you could put all those things into place to help to expedite that process. So I've developed a whole program to help coaches move from that one on one into the corporate house, and it just sort of came about quite organically. It's just all the mistakes I've made, like speak to the process. And as I was doing, and I thought, well, I wish I had this when I first started. I really do and would have really guided me along the path so much so much quicker. But um, yeah, I just love it.  I love seeing the transition. I've put some other health coaches through and to see them come out the other end and actually start to sign corporate clients and start to make some good money in their business. It's really exciting. I love seeing that transformation.
Melanie: Yeah, and I guess that's the message. It's powerful. You've done it. You've been there. I don't think anyone else is doing what you're doing, Christine. It's such a valuable service that you offer. And I love it that you've got this webinar. It's a free webinar, right?
Christine: Yeah, that's right. It's a free webinar, it goes for an hour, and I'll be giving away some free resources at the webinar. Since I help coaches get started – if they're interested, if they're serious, then there's going to be lots of value there.
Melanie: Great. And even if they're not sure, then obviously it's a place to get clarity on whether that's something they'd like to do in the future.
Christine: Yeah, that's right.
Melanie: Absolutely. And of course, now is a very good time to think about it and to plan for it, because I think we're at the tipping point of a big move into coaching in the corporate space being taken a lot more seriously. And there's going to be a lot of opportunities coming up for people who are positioning themselves in that way with the right skills and knowledge to do that.
Christine: Yeah, there seems to be really significant demand. And particularly, there's a lot of investment from the government, a lot of funding going around, particularly in the mental health space and sector. And that falls through into organizations, of course, and as I said before, with everything that we've experienced this year – there seems to be a really significant demand. And what I'm noticing more of is the that kind of that tailor made program, as opposed to that sort of generic program that a lot of the large organizations might offer. So to be an individual and to really listen and understand the challenges of that organization to tailor made a program that fits that organization to reach those outcomes and achieve those benefits of is of great value.
Melanie: That's the coaching approach. It makes it hard for anyone to copy you. And it makes you stand out and really deliver value. Thanks so much. We've covered so much today. Christine, is there anything else you want to add? Before I point people to the registration link, which hold attached to this Show Notes for this episode, and all of your social media links? Is there anything else you want to say?
Christine: Yeah, f you know if this is something you're interested in or perhaps you're unsure about, or you want to perhaps learn a bit more about… by all means, come on to the webinar, jump into our Facebook group health coaches in corporate health we are a group of over 300, like minded people who are interested in some are breaking through. Some are doing it, some are actually quite experienced in that area. So it's just a real community of people supporting each other in transitioning into that space.
Melanie: Sounds like a great place to be, and thank you so much.
Anyone listening who's interested, I'm going to put all of these details in the notes, and I advise you to get in touch with with Chris before Thursday, the 22nd of October, otherwise, the Facebook group is the place to go if you're listening to a recording after that date.
Christine: Thank you. It's great to have a chat and have a lovely week.
Melanie: You too. Bye for now.
Interested in corporate coaching?
Follow the links to learn more about Christine. I can also recomment the Habitology Membership as the perfect tool if you're ready to break old habits and start a new chapter. I encourage you to check it out. Learn more here: